WooT!!!
So There is now a server you can join and chat to everyone in the guild - how was this made possible i hear you say?
dedication form our members to pull together and help thats how!!!
Pride, I, Highenchanter and King pulled together and made Some Teakspeak servers!!!
Click To Download Teamspeak 2
How To Connect To It You say?
Like This !
Server Address For Pride's Server : 69.236.85.189:8767
Server Address For King's Server : 122.109.17.117:8767
BUT Thats My Nickname Dont Go Stealin it !!! Replace it with your own!
Once you come online I/Others will be there to allow you to register with the server then once your registered you will have extra priveleges for one to be able to enter the registered channels!!!
Pride's Server : OFFLINE
King's Server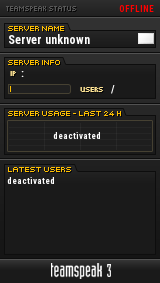 Due to the fact i am running behing a router with a built in firewall i cannot host a server
it does not let anyone else connect to me
We Have Fully Tested The Server's Capabilities and the server does not lag ingame or be hard to hear others - providing they have a microphone

Last edited by JB1 on Tue Aug 26, 2008 1:27 pm; edited 11 times in total



Posts

: 9


Join date

: 2008-08-18



well theres a few members using server 2 - King's Server - as its mostly always online

BUT what we have noticed there was no lag and the quality was perfect.!
Last edited by JB1 on Sat Aug 30, 2008 6:47 am; edited 1 time in total



Posts

: 9


Join date

: 2008-08-18



Excellent.. I'll have to d/l teamspeak when I get off work tonight. I haven't tried it in about.... 6 years, but if it's good quality, I'm game!



Posts

: 31


Join date

: 2008-08-12


Age

: 42



Eh, I've had my fair share of complaints with Teamspeak. For one, quality really is much worse.... There's really no way of fixing it, because its not the server thats the problem, its the actual program.

It's pretty cool to have a Teamspeak for backup or whatever, but personally, I'm going to stick with ventrilo


_________________
https://2img.net/h/i44.photobucket.com/albums/f10/MrAwesome009/DrRockso.gif


Chars: MrAwesome009, H1TM4N, --Gluttony--, --Fallacy, -Ometh-
Admin




Posts

: 353


Join date

: 2008-06-25


Age

: 27


Location

: In Yo' Base, Killin' Yo' Dudez





Similar topics
---
Permissions in this forum:
You
cannot
reply to topics in this forum